Montalvo Infante, Harold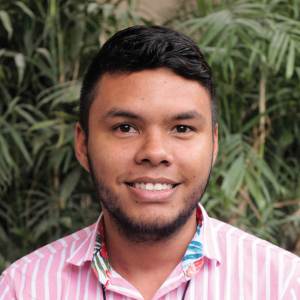 Serving At: Evangelical United Methodist Church of Ecuador
Home Country: Colombia
WAYS TO REACH ME:
This missionary has completed service. The Advance number will remain active until December 31, 2020.
Harold Ricardo Montalvo Infante is a Global Mission Fellow with the United Methodist General Board of Global Ministries, engaged in a two-year term of service. He was commissioned on July 28, 2019.
The Global Mission Fellows program takes young adults ages 20-30 out of their home environments and places them in new contexts for mission experience and service. The program has a strong emphasis on faith and justice. Global Mission Fellows become active parts of their new local communities. They connect the church in mission across cultural and geographical boundaries. They grow in personal and social holiness and become strong young leaders working to build just communities in a peaceful world.
Harold was born in Barranquilla, Atlántico, Colombia, and most recently lived in the Soledad municipality. He is a member of the Mount Zion Christian Church, a Pentecostal congregation in Soledad. After studying accounting, marketing and sales, he enrolled in a professional psychology course. Harold has worked as a manager for the Impact Happy Foundation, a project coordinator with the Funvinat Foundation and a rights-restoration program manager with the Colombian Family Welfare Institute.
"Knowing God and building communion with him is the best experience I have had in my life," Harold said. "I always try to talk about that divine love that he gives us and how I changed my life." At his church, he serves in the worship group and preaches. "I like to sing and talk about God," he continued.  After some friends told him about Global Mission Fellows, Harold prayed and sought God's guidance for his life.