Kasongo Muluba, Mirielle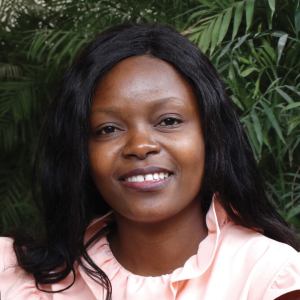 Serving At: The Fellowship of Christian Councils and Churches in West Africa
Home Country: Democratic Republic of the Congo
WAYS TO REACH ME:
This missionary has ended service. The Advance number will be active until December 31, 2021.
Mirielle Kasongo Muluba is a Global Mission Fellow with the United Methodist General Board of Global Ministries, engaged in a two-year term of service. She was commissioned on July 28, 2019.
The Global Mission Fellows program takes young adults ages 20-30 out of their home environments and places them in new contexts for mission experience and service. The program has a strong emphasis on faith and justice. Global Mission Fellows become active parts of their new local communities. They connect the church in mission across cultural and geographical boundaries. They grow in personal and social holiness and become strong young leaders working to build just communities in a peaceful world.
Born in Kamina, Haut-Lomami Province, Democratic Republic of the Congo, Mirielle now lives in the capital city of Kinshasa. She is a member of the Lokole United Methodist Church in the Central Congo Annual Conference. In 2019, she earned a degree in natural resources management from Africa University in Zimbabwe. She has worked as a Sunday school teacher, an intern with Nyanga National Park in Zimbabwe and a financial minister in the Congolese community at A.U.
As a child, Mirielle's life was carefree, and she expected it to stay that way. However, when she started college, her United Methodist clergy father was assigned to a congregation that did not welcome or support him. "These experiences faced with my entire family informed me about how we might be a stranger, rejected with no support in your own environment," Mirielle said. "I learned to be patient and to endure the sorrow. I had all reason to hate the church or leave it, but instead we all stayed and prayed to God, while interacting with people to break the existing barriers." When she applied to become a Global Mission Fellow, Mirielle remembered, with gratitude, the people who walked with her family as they reintegrated into their new community. Without these people, she said, "I would not be what I am today."
Email Me