Mulinge, Catherine M.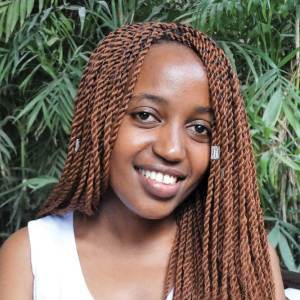 Serving At: CEPALC
Home Country: Kenya
WAYS TO REACH ME:
This missionary has ended service. The Advance number will be active until December 31, 2021.
Catherine Mueni Mulinge is a Global Mission Fellow with the United Methodist General Board of Global Ministries, engaged in a two-year term of service. She was commissioned on July 28, 2019.
The Global Mission Fellows program takes young adults ages 20-30 out of their home environments and places them in new contexts for mission experience and service. The program has a strong emphasis on faith and justice. Global Mission Fellows become active parts of their new local communities. They connect the church in mission across cultural and geographical boundaries. They grow in personal and social holiness and become strong young leaders working to build just communities in a peaceful world.
Catherine is from Nairobi, Kenya. She is currently a member of Potter's Gospel Church, a Protestant congregation in Nairobi. In 2017, she received a certificate in employability skill training from CAP Youth Empowerment Institute, Nairobi. She also holds a diploma in early childhood education and care from Prism Teachers College, Nairobi; a certificate in computer studies from Nairobi Industrial Institute; and a Kenya Certificate of Secondary Education from General Mulinge High School, Machakos, Kenya. She has worked as a customer care representative, an administrative assistant and a teacher.
"Since my early life," Catherine said, "I have had several experiences that would be the center of definition for my spiritual growth as a young Christian believer." In times of spiritual struggle and temptation, she said, "I thank God that he kept me coming back to his house and focused on him alone. I now understand that my social involvement has evangelistic consequences as I bear witness to the transforming grace of Jesus Christ. There is an inward call from God that I hear by faith and that I know through a sense of leading, purpose and growing commitment. The affirmation of my calling and gift has been through, and not limited to, my family of faith, church leaders and the local communities during my involvement in direct service, community development and social justice advocacy."
Email Me