Manatse, Miriam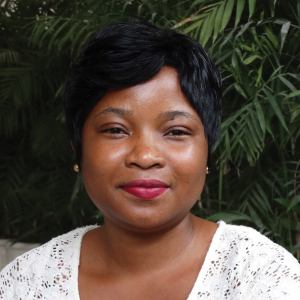 Serving At: Cheorwon Peace Border School
Home Country: Zimbabwe
WAYS TO REACH ME:
Miriam Manatse is a Global Mission Fellow with the United Methodist General Board of Global Ministries, engaged in a two-year term of service. She was commissioned on July 28, 2019.
The Global Mission Fellows program takes young adults ages 20-30 out of their home environments and places them in new contexts for mission experience and service. The program has a strong emphasis on faith and justice. Global Mission Fellows become active parts of their new local communities. They connect the church in mission across cultural and geographical boundaries. They grow in personal and social holiness and become strong young leaders working to build just communities in a peaceful world.
Miriam was born in Bulawayo, Zimbabwe, where she still lives. She is a member of the Bulawayo United Methodist Church, related to the Zimbabwe West Annual Conference. She holds a degree in human resource management from Lupane State University. Miriam has worked as a human resource clerk and, as part of her degree program, as an attaché/intern at the Labor Law Center.
"I applied for the Global Mission Fellows program in 2018," Miriam said. "However, I did not go beyond the group discussions. I did not lose hope, and I kept the faith. If it were a path I was intended to take, God would make it happen. My call to mission is so I can help establish the church in my placement site the same way United Methodists have established churches across the world." She also wants "to assist youth where possible, through prayer, leadership and fellowship."
Email Me