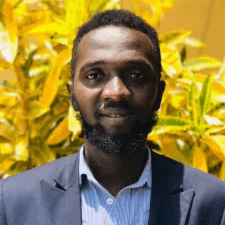 Serving At: Comprehensive Rural Health Project
Home Country: Sierra Leone
WAYS TO REACH ME:
This missionary has completed service. The Advance number will remain active until January 21, 2024.
James Kanu is a Global Mission Fellow (International) with the United Methodist General Board of Global Ministries, engaged in a two-year term of service. He is part of the 2021-2023 Global Mission Fellow cohort.   
The Global Mission Fellows program takes young adults ages 20-30 out of their home environments and places them in new contexts for mission experience and service. The program has a strong emphasis on faith and justice. Global Mission Fellows become active parts of their new local communities. They connect the church in mission across cultural and geographical boundaries. They grow in personal and social holiness and become strong young leaders working to build just communities in a peaceful world.  
James is a member of Brown Memorial United Methodist Church, Freetown, Sierra Leone. The church is part of the Sierra Leone Annual Conference. A young adult member, James sings in the choir and currently is choirmaster. He earned a Bachelor of Arts degree in history and political science from Fourah Bay College, Freetown.
"I have always seen myself in mission work," James said. Before, during and after university, he volunteered in religious and secular activities in which he saw God at work.
"This culminated my call to mission, hoping to share the gospel and help transform the world in my own little way," he said. He served with an organization that provides basic education and learning resources to help the less fortunate excel academically. Such experiences formed his call to mission, James said.
"Since childhood," he said, "I have found faith in Christ through Sunday school. My faith grew when I started fellowshipping with my Methodist family, sharing Scriptures and faith in Christ Jesus." He is especially passionate about caring for "the deprived and dejected."
"Over the years," he added, "I have realized that faith in Christ is nothing if we do not care for those around us. Jesus spoke, as recorded in Scriptures, that the least we do to others we've done unto him. My prayer is – and will always be – that I will grow in faith and continue to focus on Jesus, the finisher of our faith, and on the strength and courage to do his kingdom's work."