Fattoh, Assouwou E
Fattoh, Assouwou E
Country:
Congo, (Democratic Republic)
DONATE NOW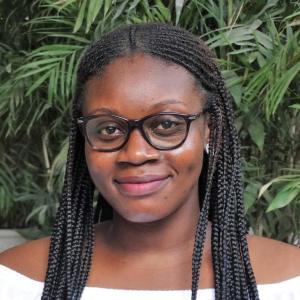 Serving At: Kamisamba farm (Kamina)
Home Country: Cote d'Ivoire
WAYS TO REACH ME:
Assouwou Eukariste Yah Nissi Fattoh is a Global Mission Fellow with the United Methodist General Board of Global Ministries, engaged in a two-year term of service. She was commissioned on July 28, 2019.
The Global Mission Fellows program takes young adults ages 20-30 out of their home environments and places them in new contexts for mission experience and service. The program has a strong emphasis on faith and justice. Global Mission Fellows become active parts of their new local communities. They connect the church in mission across cultural and geographical boundaries. They grow in personal and social holiness and become strong young leaders working to build just communities in a peaceful world.
Assouwouis from Abidjan, Cote d'Ivoire. She is a member of the Peniel United Methodist Church in the Cote d'Ivoire Annual Conference. She holds a Bachelor of Arts degree in environmental science and English from Africa University in Zimbabwe. She has worked as treasurer for the West African Students Association, Africa University; treasurer for Africa University Volunteers in Mission; and tutor for the children's club, Association of Children and Women, Abidjan.
"I'm a child raised by faith," Assouwousaid. "After my father passed away, my mother decided to leave her job to be a full-time missionary. My family had to depend on the faith we have in God, who is the father of the orphan and takes care of the widow. I'm depending on my faith in God every day. I know God will never fail us. I have been inspired by my mother and my father since I was a child. In the beginning, I was forced to give to the needy until I learned the importance of giving to others. Since then, I have grabbed every occasion where I have the opportunity to give a bit of myself to bring joy to those in need of attention."
Email Me