Djakpassou, Kafui I.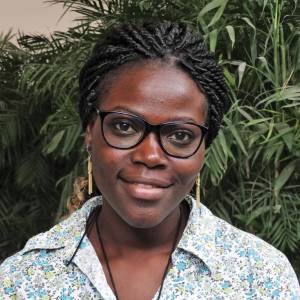 Serving At: Methodist Church in Uruguay
Home Country: Togo
WAYS TO REACH ME:
This missionary has ended service. The Advance number will be active until December 31, 2021.
Kafui Ivette Ewoetsavi Djakpassou is a Global Mission Fellow with the United Methodist General Board of Global Ministries, engaged in a two-year term of service. She was commissioned on July 28, 2019.
The Global Mission Fellows program takes young adults ages 20-30 out of their home environments and places them in new contexts for mission experience and service. The program has a strong emphasis on faith and justice. Global Mission Fellows become active parts of their new local communities. They connect the church in mission across cultural and geographical boundaries. They grow in personal and social holiness and become strong young leaders working to build just communities in a peaceful world.
Kafui was born in Lomé, Togo, in West Africa, where she still resides. She is a member of the Methodist Church of Togo. She holds a senior technician certificate in tourism from the university in Cotonou. Kafui has worked in ticketing at Saphyr Tour Travel, as a marketing agent for Jardin Edelweiss Restaurant and as a receptionist at Djibson Hotel.
"I'm a young woman who firmly believes in God and my Savior, Jesus Christ," Kafui said. "From the beginning of my life, I have seen the grace and faithful of God from all fields. God showed me his love in many difficulties. I love serving in the house of God; therefore, I have engaged in church activities such as the youth group and the prayer team. I cannot explain the love of God for me and my family. I am committed to serving God forever." She views Global Mission Fellows as "a great opportunity for me to serve God and answer the call of Jesus. I am happy to follow and experience the recommendation of Jesus Christ in Matthew 6:33: 'But seek first his kingdom and his righteousness, and all these things will be given to you as well.'"
Email Me