Rodríguez, Carlos S. Reyes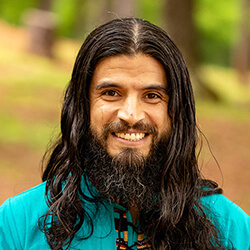 Serving At: Coordinator of Hispanic/Latino Ministry
Home Country: Colombia
WAYS TO REACH ME:
This missionary has completed service. The Advance number will remain active until December 31, 2021.
The Rev. Carlos S. Reyes Rodríguez is a missionary with the United Methodist General Board of Global Ministries. He is serving through the National Plan for Hispanic/Latino Ministries as coordinator of Hispanic/Latino Ministry of the Peninsula-Delaware Annual Conference, based in Dover, Delaware. He was commissioned in June 2019.
A minimum of almost 7 percent, perhaps more, of the population of the conference area —Delaware and the Eastern Shore of Maryland — is Hispanic/Latino. Carlos works with the conference leadership and local churches in planning and strengthening Hispanic/Latino ministries. He says he is "learning about justice from migrant communities in the U.S."
Carlos was born in Colombia and remains a citizen of that South American country, although he came to the United States as a young adult and is a commissioned deacon of the Peninsula-Delaware Conference. He holds a bachelor's degree in journalism and social communication from the Universidad Autónoma del Caribe in Barranquilla, Colombia. He studied at Delaware Technical and Community College, Newark, and in 2016, received the Master of Divinity degree from Wesley Theological Seminary, Washington, D.C.  Carlos worked for a newspaper in Colombia before coming to the U.S.
He was baptized and confirmed in the Roman Catholic Church, graduated from a Presbyterian school in Colombia, and was schooled in compassion by his mother. Carlos says he had a mystical experience of Jesus at a retreat when he was 18 years old but was still lacking a "holistic and communal commitment with God's people." That came when he lived with a host family involved in The United Methodist Church in Elkton, Maryland. "I started connecting dots about the purpose of my life on earth," he says. He found a community "intentionally seeking justice for the sake and redemption of humanity, especially with the ones who are looked down on or outcast."
His call to mission relates to that understanding of community. "As a missionary," he explains, "I am called to live among the people to prophetically examine our real moral state and transform the corrupted images of humanity into the redemptive image God has made for creation. I am called to co-create parallel realities amid a greedy world by living through the hint of hope and change. I am called to live both the celebrations and pains that people have in connecting and sharing."
Carlos is married to Kaylee Reyes Rodríguez.
Email Me