Moreira Marques, Patricia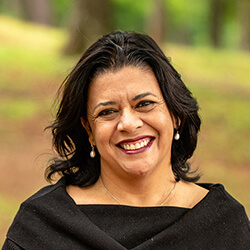 Serving At: Igreja Evangelica Metodista Portuguesa
Home Country: Brazil
WAYS TO REACH ME:
The Rev. Patricia Regina Moreira Marques, a missionary with the United Methodist General Board of Global Ministries, serves as a pastor of the Evangelical Methodist Church of Portugal in the city of Porto. She was commissioned in June 2019.
While a minority in Portugal, the Methodist community in the northern city of Porto is growing. Its three congregations are reaching out to new people in need of pastoral care.
Patricia is an ordained pastor in the Methodist Church of Brazil. She holds Bachelor of Theology and Master in Education degrees and a certificate in pastoral counseling from the Methodist University of São Paulo.
For 11 years before entering mission service, Patricia was pastor of the Santana Methodist Church, São Paulo. Concurrently, she taught at the Methodist university and advised students in the theology program there.
Patricia grew up in a Methodist-Presbyterian household and was deeply involved in church life and service from an early age. "My awakening to pastoral service," she says, "happened due to being with North American missionaries and local ministers. Even when I was on school vacation, I would be at church to study the Bible and take classes."
Her call to mission is related to a desire to serve God in a country other than her own. She recalls, "My wish to serve God's will in a different culture was enhanced during my visit to Portugal for the Methodist Annual Conference in 2018."