McManaway, Erin N.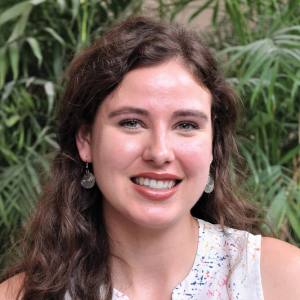 Serving At: Koinonia Salvador
Home Country: USA
WAYS TO REACH ME:
This missionary has completed service. The Advance number will remain active until December 31, 2020.
Erin Nichole McManaway is a Global Mission Fellow with the United Methodist General Board of Global Ministries, engaged in a two-year term of service. She was commissioned on July 28, 2019.
The Global Mission Fellows program takes young adults ages 20-30 out of their home environments and places them in new contexts for mission experience and service. The program has a strong emphasis on faith and justice. Global Mission Fellows become active parts of their new local communities. They connect the church in mission across cultural and geographical boundaries. They grow in personal and social holiness and become strong young leaders working to build just communities in a peaceful world.
Erin is from Whitewater, Wisconsin, USA. Involved in the Whitewater Area Regional Ministry, she is a member of Richmond United Methodist Church, Whitewater, in the Wisconsin Annual Conference. She holds a Bachelor of Arts degree from the University of Wisconsin in Eau Claire. She majored in organizational communication and Spanish and minored in Latin American studies. She has worked a campus resident assistant and a 4-H intern.
"I was raised in The United Methodist Church," Erin said. "I attended Sunday school and a youth missions church camp, where I learned more about God and his call to serve others. I continued learning even more through confirmation and, most importantly, mission trips with our high school youth group. I learned not to be afraid to ask questions. Having faith is not always easy, but the joy and community it brings is invaluable. I was always taught that you must leave this earth better than you found it. Through smaller service projects, I learned how impactful and rewarding service to others can be. Ever since, I have felt a calling to serve something bigger than myself and to work toward bettering the lives of everyone."
Email Me