Jones, Lillian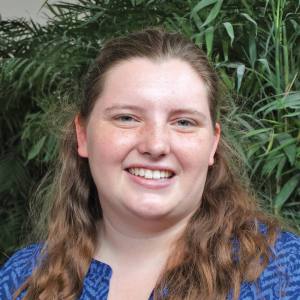 Serving At: The Surf Project
Home Country: USA
WAYS TO REACH ME:
This missionary has completed service. The Advance number will remain active until December 31, 2021.
Lillian Jones is a Global Mission Fellow with the United Methodist General Board of Global Ministries, engaged in a two-year term of service. She was commissioned on July 28, 2019.
The Global Mission Fellows program takes young adults ages 20-30 out of their home environments and places them in new contexts for mission experience and service. The program has a strong emphasis on faith and justice. Global Mission Fellows become active parts of their new local communities. They connect the church in mission across cultural and geographical boundaries. They grow in personal and social holiness and become strong young leaders working to build just communities in a peaceful world.
Lillian was born in Omaha, Nebraska, and now lives in Mitchell, South Dakota, where she is a member of Fusion (United Methodist) Church, Dakotas Annual Conference. She holds a Bachelor of Arts degree in Christian leadership and theater, with minors in creative writing and behavioral science, from Dakota Wesleyan University, Mitchell. She has worked as the outreach and events coordinator, Fusion Church; an Elisha intern, Dakota Wesleyan Campus Ministry; and a Christian leadership intern, First United Methodist Church, Springfield, Nebraska.
"I was fortunate to grow up in a very supportive faith community and knew I wanted to go into ministry, even as a young child," Lillian said. "My journey following God's call has not always been an easy one." Although the path has been "plagued with doubt and anxiety," Lillian said she has worked on her faith for a very long time. "God has been persistent in his love for me all this time," she added. "Even as my family suffered tragedy, God's love always surrounded us and continued to guide me closer to him. God has called me to serve and love those whom the world has forgotten. We are to live into God's kingdom here on earth."
Email Me