Hopkins, Navya A.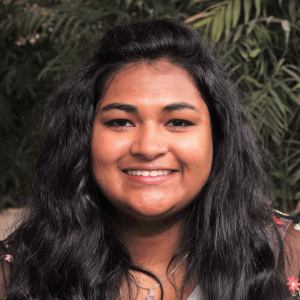 Serving At: INSPIRE
Home Country: USA
WAYS TO REACH ME:
This missionary has completed service. The Advance number will remain active until December 31, 2021.
Navya Ann Hopkins is a Global Mission Fellow with the United Methodist General Board of Global Ministries, engaged in a two-year term of service. She was commissioned on July 28, 2019.
The Global Mission Fellows program takes young adults ages 20-30 out of their home environments and places them in new contexts for mission experience and service. The program has a strong emphasis on faith and justice. Global Mission Fellows become active parts of their new local communities. They connect the church in mission across cultural and geographical boundaries. They grow in personal and social holiness and become strong young leaders working to build just communities in a peaceful world.
Born in India, Navya is a United States citizen. Now living in Winfield, Kansas, she is a member of First United Methodist Church, Leavenworth, Kansas, in the Great Plains Annual Conference. A student at Southwestern College, Winfield, she has worked as an assistant elementary schoolteacher, a Builder Bound Camp leader and a student success center staff member.
Adopted at age 13 by a United Methodist family, Navya began her personal faith journey in high school. "I joined Discipleship Bible Study, and that's where my faith started to grow," she said. "Growing up in India, I lived in a women's shelter. I felt I had no worth, that my voice wasn't important." After her adoption by a United Methodist family, she struggled emotionally, wondering why she had been granted a chance. "All these experiences changed my life," Navya continued. "My passion is children. I am forever grateful for the nuns [in India] who taught me about faith and to be independent. They showed by example how to live with little and be happy, that faith and community are important. I want to be there for [other children] every step of the way. I want children to feel a sense of belonging and help them to achieve their goals."
Email Me