Willoughby III, William C.
Willoughby III, William C.
Country:
Saint Vincent and the Grenadines
DONATE NOW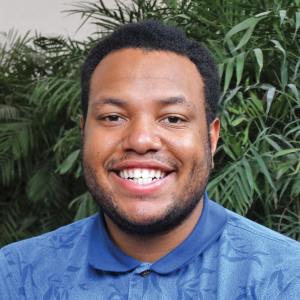 Serving At: MCCA - Kingstown Methodist Church
Home Country: USA
WAYS TO REACH ME:
William C. Willoughby is a Global Mission Fellow with the United Methodist General Board of Global Ministries, engaged in a two-year term of service. He was commissioned on July 28, 2019.
The Global Mission Fellows program takes young adults ages 20-30 out of their home environments and places them in new contexts for mission experience and service. The program has a strong emphasis on faith and justice. Global Mission Fellows become active parts of their new local communities. They connect the church in mission across cultural and geographical boundaries. They grow in personal and social holiness and become strong young leaders working to build just communities in a peaceful world.
Born in New Orleans, William now lives in Baton Rouge, Louisiana. He is a member of Cornerstone United Methodist Church, New Orleans, in the Louisiana Annual Conference. He holds a degree in psychology from Northwestern State University, Natchitoches, Louisiana. He has worked as a volunteer coordinator with Network Volunteers of New Orleans and a brand ambassador for Assist Marketing.
Raised in the church, William was involved in many youth activities. "My life revolved around church," he said. "It was a very fun experience. I learned about being a good Christian and how to pray, but, personally, I didn't feel that my relationship with God was where it should have been." He longed for a more meaningful faith experience. In college, his faith was challenged, and he felt as if he "put God on a back burner." He realized he had to turn his life around. Today, William said, "All I want from life is to serve. I want to serve God while continuing to strengthen my faith. My future aspiration is to be a global public servant. I want to make the world a better place in the name of Jesus Christ. The joy I receive in my heart from helping others is simply amazing."
Email Me