Leahy, Eithne C.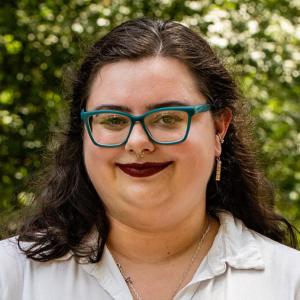 Serving At: Northwest Immigrant Rights Project
Home Country: United States
WAYS TO REACH ME:
Eithne Claire Leahy is a Global Mission Fellow with the United Methodist General Board of Global Ministries, engaged in a two-year term of service. She was commissioned on Aug. 23, 2019.
The Global Mission Fellows program takes young adults ages 20-30 out of their home environments and places them in new contexts for mission experience and service. The program has a strong emphasis on faith and justice. Global Mission Fellows become active parts of their new local communities. They connect the church in mission across cultural and geographical boundaries. They grow in personal and social holiness and become strong young leaders working to build just communities in a peaceful world.
Born in Omaha, Nebraska, Eithne is a member of Urban Abbey United Methodist Church, Omaha, Great Plains Annual Conference. She holds a Bachelor of Arts degree from Creighton University, Omaha, with a major in history and minors in French and women/gender studies. At Urban Abbey, she has worked as a business and volunteer manager. At Creighton, she worked as a social justice barista and an assistant student coordinator for the Eileen B. Lieben Center for Women.
"It was not until I started working at Urban Abbey United Methodist Church in my senior year of university," Eithne said, "that I was exposed to the good that religion can do. Being exposed to a faith that is centered in love and justice, rather than bigotry and exclusion, has fundamentally changed the way I experience the world and has allowed me to explore my faith and spirituality for the first time. I have always felt a very intense call to service. When I was 16, I attended a camp called IncluCity, which exposed me to the realities beyond my while, middle-class bubble. I came to the realization that as a person in a relatively privileged position, it is my duty to fight for a more equal and just world."
Email Me