Yun, Yeo Jin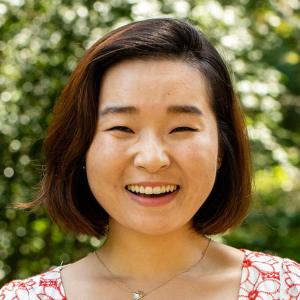 Serving At: Methodist Federation for Social Action (MFSA)
Home Country: South Korea
WAYS TO REACH ME:
This missionary has completed service. The Advance number will remain active until December 31, 2021.
Yeo Jin Yun is a Global Mission Fellow with the United Methodist General Board of Global Ministries, engaged in a two-year term of service. She was commissioned on Aug. 23, 2019.
The Global Mission Fellows program takes young adults ages 20-30 out of their home environments and places them in new contexts for mission experience and service. The program has a strong emphasis on faith and justice. Global Mission Fellows become active parts of their new local communities. They connect the church in mission across cultural and geographical boundaries. They grow in personal and social holiness and become strong young leaders working to build just communities in a peaceful world.
Born in South Korea, Yeo Jin is a member of Grace-Bethel United Methodist Church, Leonia, New Jersey, Greater New Jersey Annual Conference. She holds Bachelor of Arts degrees in peace and conflict studies and in ethnic and area studies, with a concentration in Asian studies, from Messiah College, Grantham, Pennsylvania. She has worked as a research/development and marketing team member, MANE Concept, and as an English-language instructor, Campus Education.
"Raised in a Christian household," Yeo Jin said, "I grew up with Jesus as a friend. Between the years singing 'Jesus Loves Me' in Sunday school and the years spent in meetings and in front of computer screens, my faith journey had its share of highs and lows." Feeling unhappy and unfulfilled in her job after college, Yeo Jin had an opportunity to attend the 2018 United Methodist Women's Assembly. "During those days in Columbus, Ohio," she said, "I was instilled with a desire to live boldly for God. My heart undeniably heard the call. A month later, I resigned and began my application for Global Mission Fellows. Now, I'm filled with an uncharacteristically high amount of confidence and a genuine excitement for what God has in store for me."
Email Me