Marionneaux, Natalie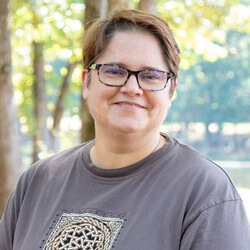 Serving At: Grove Avenue United Methodist Church in Johnstown, Pennsylvania
Home Country: United States of America, North America
WAYS TO REACH ME:
This serves to notify you Church and Community Worker, ended service July 22, 2021. 
Natalie Marionneaux is a missionary with the United Methodist General Board of Global Ministries assigned as a Church and Community Worker based at the Grove Avenue United Methodist Church in Johnstown, Pennsylvania. She was commissioned October 13, 2018.
Church and Community Workers respond to God's call to ministry among the poor and disenfranchised in rural and urban areas throughout the United States. They work to change the social inequities of poverty, racial injustice and domestic violence.
Natalie is a community minister for Hope-Filled Relationships, a community partnership in the Moxham neighborhood of Johnstown that is rooted in the principles of asset-based community development. The consortium includes the All God's Children Ministries of Grove Avenue United Methodist Church. This project aims at creating a safe and wholesome spiritual, economic and social environment for participants.
Natalie is from Baton Rouge, Louisiana, where she is a member of the local First United Methodist Church, a congregation of the Louisiana Annual Conference. She holds atBachelor of Arts degree in journalism from Louisiana Tech University, Ruston; and a Master of Arts in Ministry from Drew Theological School, Madison, New Jersey.
Natalie has worked with Habitat for Humanity in Mexico and Pueblo to People, an alternative trade organization, in Houston. She also volunteered for a year at Su Casa Catholic Worker House in the Back of the Yards neighborhood on the south side of Chicago. There, she worked with political refugees, most of whom were survivors of torture from Central America. While in theological school, Natalie was a chaplain at Montclair State University in New Jersey. She also enjoyed volunteering with Kairos Prison Ministry. Natalie is moving on from her current work as a case manager for disaster recovery in Louisiana to Pennsylvania as a Church and Community Worker with Global Ministries.
Raised in the Roman Catholic Church, Natalie attended parochial school for 12 years, and has good memories of the Catholic community. Natalie wandered away from the church as an adult, thinking it enough to be a "lone" Christian. She recalls, "Thankfully, through those solitary years, I still prayed and still had God in my life. Somehow I knew God would never leave me. I knew God hung on to me when I didn't have the strength to hang especially when life was difficult."
Having lived away from Louisiana most of her adult life, Natalie returned to Baton Rouge in 2012 to be with her niece and family while her niece fought cancer. It was then that she found "a loving and caring faith community" at First United Methodist Church. After attending a retreat at Cursillo, Natalie says, "My heart was changed when I really got in touch with how much God loves me. And I stopped fighting God on my call to serve."
Ever since Natalie was a child, she was stirred by visits from missionaries to her childhood church, so the idea of mission service was not new to her when she completed her master's degree in ministry in 2017.
"I feel like Paul on the road to Damascus, wrestling with God over my call," Natalie says. "I have tried to do it on my terms, conditionally, how I wanted it. Thankfully, God persistently pursued me until I was able to let go and give my all. Here I am, Lord.
Email Me