Trujillo, Daniel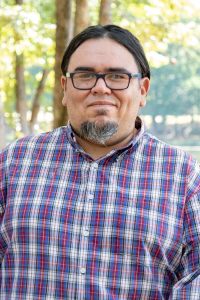 Serving At: Methodist Evangelic Church of Argentina and the Methodist Church in Uruguay
Home Country: Honduras, Latin America and the Caribbean
WAYS TO REACH ME:
This Global Missionary will complete service on August 31, 2021.
Rev. Daniel Trujillo is a Missionary with the General Board of Global Ministries he serves in a district with an emergent joint mission with the Methodist Evangelic Church of Argentina and the Methodist Church in Uruguay along the Uruguay River, this river acts like a border between these two countries. He was commissioned on October of 2018.
One of the objectives of this new district is equipping new pastoral Lay groups to be able to respond to the ministerial needs of these communities on a vast area with few ordained clergy on both sides of the river. Daniel is one of three missionaries of Global Ministries who will work in this project. His base is in Salto, Uruguay.
Daniel Trujillo is from Tegucigalpa, Honduras; where he is affiliated to the Honduras Mission of the United Methodist Church and was a Pastor of the Cristo Resucitado Congregation since January of 2013 until he entered missionary service. From 2014 to 2016 he served as the Dean of the John Wesley Education Center. He also held the title of Chief of the Social Education and Family Reintegration of Doctors Without Border of Switzerland for four years.
Daniel has received a bachelor's and a Masters in Pastoral Theology with emphasis isSocial Investigation on HIV-AIDS of the Latin-American Biblical University in San Jose, Costa Rica in 2012; he is about to finalize his bachelor's degree in Law at the Technological University of Central America in Honduras. He obtained and Psychology diploma with emphasis on Family Counseling at the Catholic University on Honduras in 2002.
Daniel states his faith journey is full of "faith, hope and a lot of questions, with my heart in Jesus' hands. My only wish is to serve and make substantial and significant contributions to the proclamation of the Gospel of Christ. I have felt His steps close to mine in the missionary walk and it becomes clearer as the days go by. Everything is in God's hands, and everything will come to be in agreement with God's purpose".
Daniel's calling to mission begins with his work for more than ten years with people that live on the streets and his sense of Christ resurrected with those in the margins. "I began to feel the desire to serve from the margins, from the most excluded edges with those who are excluded. Life has taken me to different work scenarios with people that suffer. "When I became a pastor, I continued to hear the call to serve in mission. When I heard the words of the Master: 'I came to serve and not to be served.' I felt compelled and I listened and followed that message."
He and his wife, Dr. Nery Patricia de Jesus, have four children: Andrea Marcela, Daniel Andres, Maria Victoria and Benjamin Isaac.
Email Me