Mahachi, Rutendo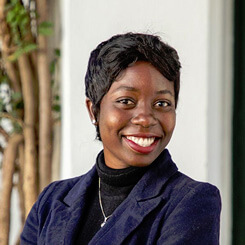 Serving At: The House of Sarah
Home Country: Zimbabwe, Africa
WAYS TO REACH ME:
Rutendo Mahachi is a Global Mission Fellow with the United Methodist General Board of Global Ministries, engaged in a two-year term of service as a gender justice advocate with the House of Sarah In Fiji, a facility related to the Anglican Diocese of Polynesia. She was commissioned in August 2018.
The Global Mission Fellows program takes young adults ages 20-30 out of their home environments and places them in new contexts for mission experience and service. The program has a strong emphasis on faith and justice. Global Mission Fellows become active parts of their new local communities. They connect the church in mission across cultural and geographical boundaries. They grow in personal and social holiness and become strong young leaders working to build just communities in a peaceful world.
Rutendo is from Marondera, a city in Mashonaland East in Zimbabwe. She is a member of the Marondera Inner-City United Methodist Church, a congregation of the Zimbabwe East Annual Conference. She holds a Bachelor of Science degree in peace and governance from Bindura University of Science Education, Bindura. She has worked in the advertising industry and in local government.
Her faith journey, Rutendo says, has included "straight ways, sharp curves and steep hills. If it [weren't] for God, I would have been lost." Along with rough spots and detours, she has seen wondrous views which, together, "have allowed me to deepen my relationship with God, to learn to be more dependent on God, to be more thankful and to praise God for his steadfast presence."
Email Me