Seki, Landry
Seki, Landry
Country:
Congo, (Democratic Republic)
DONATE NOW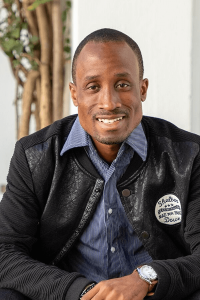 Serving At: Kamina Orphanage
Home Country: Cote d'Ivoire (Ivory Coast), Africa
WAYS TO REACH ME:
This missionary has completed service. The Advance number will remain active until December 31, 2020
Djihessan Landry Seki is a Global Mission Fellow with the United Methodist General Board of Global Ministries, engaged in a two-year term of service as a child development coordinator at the Kamina Orphanage, a United Methodist facility in Kamina, Democratic Republic of the Congo. He was commissioned in August 2018.
The Global Mission Fellows program takes young adults ages 20-30 out of their home environments and places them in new contexts for mission experience and service. The program has a strong emphasis on faith and justice. Global Mission Fellows become active parts of their new local communities. They connect the church in mission across cultural and geographical boundaries. They grow in personal and social holiness and become strong young leaders working to build just communities in a peaceful world.
Landry is from Abidjan, Côte d'Ivoire, where he is a member of the United Methodist Church Nazareth of Bonoumin Abidjan in the Côte d'Ivoire Annual Conference. He holds a Master of Philosophy degree from Félix Houphouët-Boigny University, Abidjan, and for a time was a philosophy teacher trainee. From 2016 to 2018, he chaired the Côte d'Ivoire Student Christian Movement.
His faith journey is marked by a thirst for God's presence. Landry daily seeks God's guidance through the Bible. God's word, he says, permits him to "discover the mercy of God and the joy and happiness God gives."
The Student Christian Movement led Landry to a love of mission as sharing God's word and responding to the needs of others. He sees his talents as "hearing, advising, teaching, traveling and praying."
Email Me