Quire, Deinah Lorpu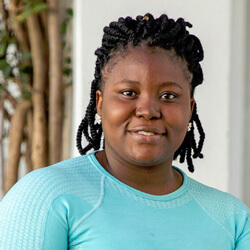 Serving At: Border Peace School
Home Country: Liberia, Africa
WAYS TO REACH ME:
Deinah Quire is a Global Mission Fellow with the United Methodist General Board of Global Ministries, engaged in a two-year term of service with the Border Peace School in South Korea. She was commissioned in August 2018.
The Global Mission Fellows program takes young adults ages 20-30 out of their home environments and places them in new contexts for mission experience and service. The program has a strong emphasis on faith and justice. Global Mission Fellows become active parts of their new local communities. They connect the church in mission across cultural and geographical boundaries. They grow in personal and social holiness and become strong young leaders working to build just communities in a peaceful world.
Deinah is from Liberia where she is member of the Duazon United Methodist Church in Lower Margibi County. She holds a Bachelor of Arts degree in mass communications from the United Methodist University of Liberia in Monrovia. She earned an advance diploma in "Women in Peace and Security" from the Kofi Annan Institute of Conflict Transformation at the University of Liberia. She has worked for the Liberia Girl Guides Association and the Liberia Peace Building Office. Her father is Bishop Samuel J. Quire Jr. of the Liberia Annual Conference.
In addition to her involvement in general church activities, Deinah's faith journey has been dramatically impacted by participation in a group of young women called "'Voice of the Voiceless" who meet for prayer and mutual support. In a meeting of this group, following recovery from a serious illness, she received the baptism of the Holy Spirit. "I am now led by the Holy Spirit," she says.
Her parents, Christians of strong faith, have provided examples of Christian devotion and service in the home and community. Through Global Mission Fellows, Deinah hopes to share her experience and to "form a network of people committed to working for justice in the global United Methodist Church." She feels called to service through the church. "Working in communities on issue related to justice," Deinah adds, "is where my passion lies."
Email Me