Pormai, Joe Edward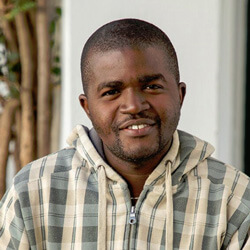 Serving At: Christuskirche Hamburg-Hamm
Home Country: Sierra Leone, Africa
WAYS TO REACH ME:
This missionary has completed service. The Advance number will remain active until December 31, 2020
Joe Edward Pormai is a Global Mission Fellow with the United Methodist General Board of Global Ministries, engaged in a two-year term of service as a ministry assistant at Christuskirche Hamburg-Hamm in Hamburg, Germany. He was commissioned in August 2018.
The Global Mission Fellows program takes young adults ages 20-30 out of their home environments and places them in new contexts for mission experience and service. The program has a strong emphasis on faith and justice. Global Mission Fellows become active parts of their new local communities. They connect the church in mission across cultural and geographical boundaries. They grow in personal and social holiness and become strong young leaders working to build just communities in a peaceful world.
Joe is from Freetown, Sierra Leone, where he is a member of the Bishop Baughman United Methodist Church. He holds a bachelor's degree in the social sciences from Fourah Bay College of the University of Sierra Leone. He has worked for several units of the Sierra Leone Annual Conference, including the department of missions and development, the youth fellowship and United Methodist Women. His mother is a missionary related to Global Ministries and United Methodist Women.
Joe has a very strong believe in Jesus Christ as Savior and in the Bible as the word of God. His faith journey taught him to be concerned for people, especially the poor, regardless of tribe, nationality, race and sexuality. He celebrates an "ubuntu spirit" – "I am because you are."
His call to mission is related to a passionate desire to serve others. 
Email Me