Souza, Pamela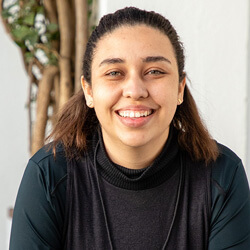 Serving At: The Center of Hope
Home Country: Brazil, Latin America and the Caribbean
WAYS TO REACH ME:
This missionary has completed service. Her advance number will remain active until December 31, 2020.
Pamela Souza, a Global Mission Fellow with the United Methodist General Board of Global Ministries, was commissioned in August 2018. She is engaged in a two-year term of service as a community health education assistant at the Center of Hope, a United Methodist health facility in Maputo, Mozambique.
The Global Mission Fellows program takes young adults ages 20-30 out of their home environments and places them in new contexts for mission experience and service. The program has a strong emphasis on faith and justice. Global Mission Fellows become active parts of their new local communities. They connect the church in mission across cultural and geographical boundaries. They grow in personal and social holiness and become strong young leaders working to build just communities in a peaceful world.
Pamela is from Juiz de Fora in Minas Gerais Province, Brazil, where she is a member of Monte Castelo Methodist Church. She holds a Bachelor of Physiotherapy degree from the University of Salgado de Oliveira, and in college years, she volunteered and subsequently worked in the health care field.
Pamela's faith journey began as a child attending church with her mother and, later, both parents and a brother. She participated in many programs and ministries and, she says, got a good start toward knowing Jesus and finding her place at his feet.
She is convinced that Jesus has prepared her for mission and will sustain her for "improbable" opportunities.
Email Me