Souza, Daniel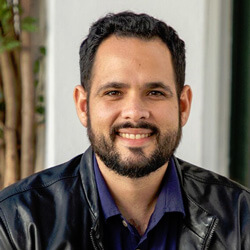 Serving At: Protestant Chaplaincy
Home Country: Brazil, Latin America and the Caribbean
WAYS TO REACH ME:
This missionary has completed service. The Advance number will remain active until December 31, 2020.
Daniel Souza is a Global Mission Fellow with the United Methodist General Board of Global Ministries, engaged in a two-year term of service as a program associate at the Protestant Chaplaincy in Eurasia. He was commissioned in August 2018.
The Global Mission Fellows program takes young adults ages 20-30 out of their home environments and places them in new contexts for mission experience and service. The program has a strong emphasis on faith and justice. Global Mission Fellows become active parts of their new local communities. They connect the church in mission across cultural and geographical boundaries. They grow in personal and social holiness and become strong young leaders working to build just communities in a peaceful world.
Daniel is from Cachoeiro de Itapemirim in southern Brazil, where he is a member of the Central Methodist Church. He holds a law degree earned in 2010. He worked with Youth with a Mission, an interdenominational missionary organization, for several years in a variety of locations in Brazil.
At age 19, Daniel felt a call from God that led him to leave the law profession. He had expected to enter that field for the sake of mission work. "It was a painful process of growth, but rewarding," he recalls. "I learned a lot about God and about myself. I was cured of many emotional wounds, and I was able to help others.
"Today, I see God calling me to teach about his word and to help others in their difficulties. God has also called me to learn about justice and mercy, and I am willing to learn."
Email Me