Touch, Sopha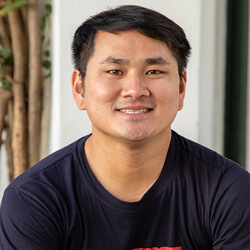 Serving At: Wesley's Chapel and Leysian Mission
Home Country: Cambodia, Asia and Pacific
WAYS TO REACH ME:
This missionary has completed service. The Advance number will remain active until December 31, 2020
Sopha Touch, a Global Mission Fellow with the United Methodist General Board of Global Ministries, was commissioned in August 2018. He is engaged in a two-year term of service in youth ministry at Wesley's Chapel, the mother church of Methodism in London and a part of the Methodist Church in Britain.
The Global Mission Fellows program takes young adults ages 20-30 out of their home environments and places them in new contexts for mission experience and service. The program has a strong emphasis on faith and justice. Global Mission Fellows become active parts of their new local communities. They connect the church in mission across cultural and geographical boundaries. They grow in personal and social holiness and become strong young leaders working to build just communities in a peaceful world.
Sopha is from Phnom Penh, Cambodia, where he is a member of the Vision Methodist Church, a congregation of the emerging Methodist Church of Cambodia. He holds a bachelor's degree in enterprise management from the Royal University of Law and Economics in Phnom Penh. He has worked in the corporate sector.
By his own admission, Sopha was a "bad boy" when he was young, hanging out with a rough crowd, and not being very happy. All that changed when he went to the Methodist Center in Phnom Penh to learn to play guitar and found himself getting more and more involved with "this God others were talking about" and reading the Bible. He recalls, "I started to accept Christ Jesus as my Savior after studying the Bible and knowing the reason … I do need to believe in him. I got baptized on Dec. 7, 2003.
"I thank God for doing amazing things to change my life from a hopeless young man to have many experiences as a music trainer, English teacher, translator, consultant, speaker and servant leader for Cambodian Methodist youth." As a Global Mission Fellow, he looks forward to serving God through mission and ministry, sharing God's faithfulness with others and learning a great deal.
Email Me