Ntinyari, Christine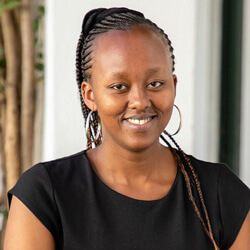 Serving At: Simukai Child Protection Center in Zimbabwe
Home Country: Kenya, Africa
WAYS TO REACH ME:
This missionary has completed service. The Advance number will remain active until December 31, 2020
Christine Ntinyari is a Global Mission Fellow with the United Methodist General Board of Global Ministries, engaged in a two-year term of service with the Simukai Child Protection Center in Mutare, Zimbabwe. She was commissioned in August 2018.
The Global Mission Fellows program takes young adults ages 20-30 out of their home environments and places them in new contexts for mission experience and service. The program has a strong emphasis on faith and justice. Global Mission Fellows become active parts of their new local communities. They connect the church in mission across cultural and geographical boundaries. They grow in personal and social holiness and become strong young leaders working to build just communities in a peaceful world.
Christine is from Meru, Kenya, where she is a member of the Kaaga Circuit of the Methodist Church of Kenya. She holds a Bachelor of Arts degree in the social sciences from Makerere University in Kampala, Uganda. She has worked in the health careindustry.
Raised in the church and exceptionally active in Sunday school, she sang and recited memory verses as a child because "it was fun," not because it had spiritual depth for her. The same attitude prevailed as a teenager and college student. Involved in an accident that almost took her life, Christine found in her recovery an opportunity to reconsider the meaning of life and the definition of "fun."
"Christ strengthened me through the recovery process," she says. "Not only did he bring healing to my fractured leg, but [also] healing into my life."
Of mission service, Christine says, "I look forward to fulfilling my purpose in life as a Global Mission Fellow. I feel I have a calling to leave this world better than I found it." She says Ephesians 2:8-10, NRSV, sums up her call to mission: "For by grace you have been saved through faith, and this is not your own doing; it is the gift of God – not the result of works, so that no one may boast. For we are what God has made us, created in Christ Jesus for good works, which God prepared beforehand to be our way of life."
Email Me