Yang, Tingting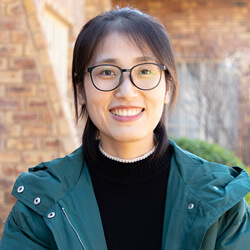 Serving At: Bethanien Diakonissen Stiftung
WAYS TO REACH ME:
This missionary has completed service. The Advance number will remain active until December 31, 2020.
Tingting Yang, a Global Mission Fellow with the United Methodist General Board of Global Ministries, was commissioned in August 2018. She is engaged in a two-year term of service as a youth and senior services associate at the Bethanien Diakonissen-Stiftung (Bethanien Deaconess Foundation) in Frankfurt, Germany.
The Global Mission Fellows program takes young adults ages 20-30 out of their home environments and places them in new contexts for mission experience and service. The program has a strong emphasis on faith and justice. Global Mission Fellows become active parts of their new local communities. They connect the church in mission across cultural and geographical boundaries. They grow in personal and social holiness and become strong young leaders working to build just communities in a peaceful world.
Tingting holds a Master of Arts degree in biblical theology from Nanjing Union Theological Seminary and taught mathematics before entering seminary in 2014.
She found no enthusiasm for or joy in his teaching, Tingting recalls. "Then I went home and joined a Bible class, decided to serve [God] full time and later was admitted to study at the Nanjing seminary."
Her call to mission emerged from an awareness of the range of services different people need and the realization that faith and response to needs join together in mission
Email Me