Nkhoma, Mada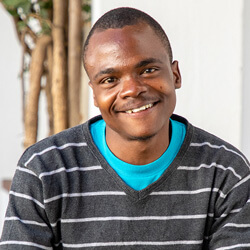 Serving At: Center of Hope
Home Country: Malawi, Africa
WAYS TO REACH ME:
Mada Daniel Nkhoma is a Global Mission Fellow with the United Methodist General Board of Global Ministries, engaged in a two-year term of service as a community health coordinator at the Center of Hope, a facility of The United Methodist Church of Mozambique in Maxixe. He was commissioned in August 2018
The Global Mission Fellows program takes young adults ages 20-30 out of their home environments and places them in new contexts for mission experience and service. The program has a strong emphasis on faith and justice. Global Mission Fellows become active parts of their new local communities. They connect the church in mission across cultural and geographical boundaries. They grow in personal and social holiness and become strong young leaders working to build just communities in a peaceful world.
Mada is from Blantyre, Malawi. He is a member of Galilee United Methodist Church on the Mpenya Circuit in the Malawi Provisional Annual Conference. He holds a bachelor's degree in Health Services Management from Africa University, the United Methodist-related institution in Zimbabwe. He took active roles in campus activities, serving as a class representative and as vice president of the church fellowship group. While in secondary school, Mada worked for three years as a peer mentor at the Queen Elizabeth Central Hospital in Blantyre.
The Christian principles that speak most directly to him are "love, hope beyond suffering and the eternal nature of life." For Mada, the love of Christ incorporates neighbors of every status and location, an attitude that overcomes every stigma, form of discrimination and social injustice. Hope has sustained him through the loss of both parents when he was in elementary school and personal health challenges. He understands the truths of Christian faith to be eternal. Mada finds ethical guidelines for life in Jesus' Sermon on the Mount.
Of mission service, he says, "The core call to mission is to engage the community – connect the community with the church – and for me to grow in personal and social holiness as taught by the Methodist tradition."
Email Me