Totten, Erin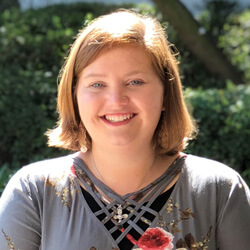 Serving At: Lithuania United Methodist Church
Home Country: United States of America, North America
WAYS TO REACH ME:
This missionary has completed service. The Advance number will remain active until December 31, 2020.
The Rev. Erin Totten is a Global Mission Fellow with the United Methodist General Board of Global Ministries, engaged in a two-year term of service as a youth worker with the United Methodist Church in Lithuania. She was commissioned in August 2018.
The Global Mission Fellows program takes young adults ages 20-30 out of their home environments and places them in new contexts for mission experience and service. The program has a strong emphasis on faith and justice. Global Mission Fellows become active parts of their new local communities. They connect the church in mission across cultural and geographical boundaries. They grow in personal and social holiness and become strong young leaders working to build just communities in a peaceful world.
Erin is originally from Galesburg, Illinois, USA, in the Illinois Great Rivers Annual Conference and grew up in the First United Methodist Church there. Erin is a provisional elder in the Illinois Great Rivers Conference, commissioned in 2016. She was pastor of the Sunfield United Methodist Church, Du Quoin, Illinois, from 2014 until she entered missionary service in mid-2018. She was the youth director at Concord St. Andrews Methodist Church, Bethesda, Maryland, while studying at Wesley Theological Seminary, Washington, D.C. She received a Master of Divinity degree in 2014.
A part of the church since infancy, Erin discerned a call to ministry while a student at McKendree University in Lebanon, Illinois; a specific call to ordained ministry came at a United Methodist youth rally in 2009. Participation in mission volunteer trips, notably one to Costa Rica, turned her attention toward missionary service.
Erin has had a longtime interest in youth ministry, having participated in the Illinois Great Rivers summer camping program for six years, 2006-12.
Of missionary service, Erin says, "I am trying to live as humbly as I can with the calling God has placed on my life. I see mission as a calling for pastors and laypeople. I believe that God continues to transform our lives and our ministry in God's mission."
Email Me