Gambo, Bolsum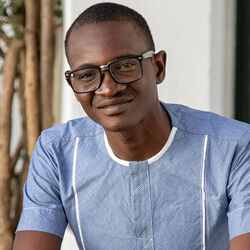 Serving At: Methodist Church in the Caribbean and the Americas in Barbados
Home Country: Nigeria, Africa
WAYS TO REACH ME:
Bolsum Gambo is a Global Mission Fellow with the United Methodist General Board of Global Ministries, engaged in a two-year term of service as a youth worker with the Methodist Church of the Caribbean and Americas in Barbados. He was commissioned in August 2018.
The Global Mission Fellows program takes young adults ages 20-30 out of their home environments and places them in new contexts for mission experience and service. The program has a strong emphasis on faith and justice. Global Mission Fellows become active parts of their new local communities. They connect the church in mission across cultural and geographical boundaries. They grow in personal and social holiness and become strong young leaders working to build just communities in a peaceful world.
Bolsum is from Jalingo Taraba State, Nigeria. He is a member of the McBride Charge Magami of The United Methodist Church in the Southern Nigeria Annual Conference. He holds a bachelor's degree in pure and applied physics from Federal University Wukari in Taraba State and has worked in the printing and publication industry in the city of Jos.
Raised in a Christian home, Bolsum experienced God's faithfulness from an early age. Music and drama are particular media for expressing his devotion and outreach. He participated in church and college choral groups. He was a member of Nazarin Littafi Mai Tsarki, a Nigerian singing group.
Bolsum entered mission service out of a conviction, he says. "I must play my part, to the best of my abilities," he explains, "by reaching as many as I can with the love of Christ and to help them in every way I can."
Email Me