Fernando, Domingos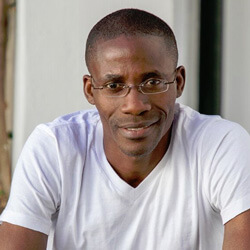 Serving At: Shade and Fresh Water
Home Country: Angola, Africa
WAYS TO REACH ME:
This missionary has ended service. The Advance number will remain active until December 31, 2020.
Domingos Fernando is a Global Mission Fellow with the United Methodist General Board of Global Ministries, engaged in a two-year term of service as an educator with Shade and Fresh Water, a project for children aged 6 to 14 of the Methodist Church of Brazil, based in Säo Paulo. He was commissioned in August 2018.
The Global Mission Fellows program takes young adults ages 20-30 out of their home environments and places them in new contexts for mission experience and service. The program has a strong emphasis on faith and justice. Global Mission Fellows become active parts of their new local communities. They connect the church in mission across cultural and geographical boundaries. They grow in personal and social holiness and become strong young leaders working to build just communities in a peaceful world.
Domingos is from Luanda, Angola, where he is a member of Redentor United Methodist Church in the West Angola Annual Conference. He holds a bachelor's degree in psychology from Africa University, the United Methodist-related institution in Zimbabwe. He has worked in the finance industry and as a volunteer in a pastoral care and counseling organization.
He grew up in The United Methodist Church with its range of activities – worship, Bible study, prayer, youth ministry, and community and social outreach – priorities continued as a college student. "I have grown spiritually strong through these practices," he says, "and daily seek opportunities to increase my faith in Christ."
Domingos finds a parallel between his interest in mission and his turn toward psychology as his college major: both focus on people and communities. Although mission work is hard work, he realizes, it is God's work, and God will sustain him. He looks forward to hearing the stories of others, becoming an advocate for social justice and helping to build strong communities.
Email Me