Faradita, Intan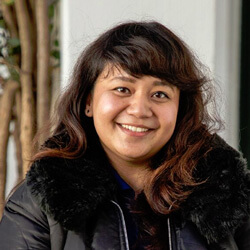 Serving At: Cambodia Holt Dream Center
Home Country: Indonesia, Asia and Pacific
WAYS TO REACH ME:
This missionary has completed service. The Advance number will remain active until December 31, 2020.
Intan Faradita is a Global Mission Fellow with the United Methodist General Board of Global Ministries, engaged in a two-year term of service as a youth worker at Cambodia Holt Dream Center, a facility for children in Phnom Penh. She was commissioned in August 2018.
The Global Mission Fellows program takes young adults ages 20-30 out of their home environments and places them in new contexts for mission experience and service. The program has a strong emphasis on faith and justice. Global Mission Fellows become active parts of their new local communities. They connect the church in mission across cultural and geographical boundaries. They grow in personal and social holiness and become strong young leaders working to build just communities in a peaceful world.
Intan is from Sragen, Central Java, Indonesia, where she is a member of the Christian Javanese Church. She learned of the Global Mission Fellows program from a friend who was part of it a few years ago. Intan earned a degree in English language instruction from Satya Wacana Christian University, Salatiga, Central Java, and has taught elementary classes and arts and crafts at the Spa Solo Raya International School.
Intan found solace in God's presence from an early age, in part because she was bullied and lonely as a result of being overweight. Losing a boyfriend as a teenager made things worse. "God pulled me up and put me on a path where he would be my guide," she recalls. That path was one of serving others.
She sees Global Mission Fellows as an opportunity to enlarge her mission outreach – into all the world as Jesus directed in Matthew 28:19. She wonders about her capacity, but God reassures her. She hears God say, "Do your part; do what you can do. Leave the rest to me."
Email Me