Njeri, Mary Ann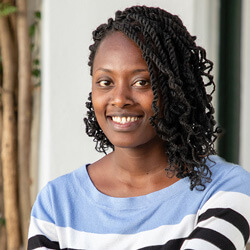 Serving At: Bwafwano Care Providers
Home Country: Kenya, Africa
WAYS TO REACH ME:
This missionary has completed service. The Advance number will remain active until December 31, 2020
Maryann Njeri is a Global Mission Fellow with the United Methodist General Board of Global Ministries, engaged in a two-year term of service as a field program officer at Bwafwano Care Providers in Kitwe, Zambia. She was commissioned in August 2018
The Global Mission Fellows program takes young adults ages 20-30 out of their home environments and places them in new contexts for mission experience and service. The program has a strong emphasis on faith and justice. Global Mission Fellows become active parts of their new local communities. They connect the church in mission across cultural and geographical boundaries. They grow in personal and social holiness and become strong young leaders working to build just communities in a peaceful world.
Maryann is from Nairobi, Kenya, where she is a member of the Nkubu Methodist Church, a congregation of the Methodist Church of Kenya. She holds a Bachelor of Science degree in resources management and held several student jobs during her college years.
Her faith in God has grown as she has matured in years. "When I was young," Maryann says, "the church molded my trust in God and taught me about the Bible. I owe my character to my family, who raised me in the Christian way. I believe I can deal with any troubles through Christ who strengthens me."
Maryann sees Global Mission Fellows as a means to make a difference in the lives of others and to learn from the experiences of others.
Email Me