Nenjerama, Theophilus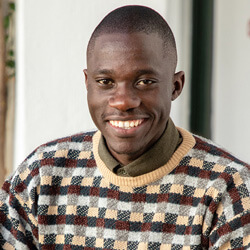 Serving At: Breathe YMCA
Home Country: Zimbabwe, Africa
WAYS TO REACH ME:
Theophilus "Theo" Nenjerama, a Global Mission Fellow with the United Methodist General Board of Global Ministries, was commissioned in August 2018. He is engaged in a two-year term of service with Breathe, an experimental program of prayer and theological conversation sponsored by the Methodist Chaplaincy at Trinity College, Dublin, and the Dublin YMCA.
The Global Mission Fellows program takes young adults ages 20-30 out of their home environments and places them in new contexts for mission experience and service. The program has a strong emphasis on faith and justice. Global Mission Fellows become active parts of their new local communities. They connect the church in mission across cultural and geographical boundaries. They grow in personal and social holiness and become strong young leaders working to build just communities in a peaceful world.
Theophilus is from Harare, Zimbabwe, where he is a member of the Zimre Park United Methodist Circuit in the Zimbabwe East Annual Conference. He holds a Bachelor of Arts degree in theater arts from the University of Zimbabwe at Harare and a postgraduate diploma in education from Zimbabwe Open University. He has worked in data collection for Justice for Children Trust, the Child Protection Society and a high school.
"My faith journey has been one of ups and downs," Theo says. "This is characterized by personal experiences that made me realize that life is not meant to be lived for the 'self,' rather, for 'them.' This extends to attitudes that place others first." Especially difficult was the loss of every member of his family.
His call to mission is related to the understanding that the goal of life is to serve others "just as Christ came to save what which was lost," he says. Theo came to understand that "the world needs love, warm hearts and humble souls to effect change and solve the issues of injustice and inequality. So, a life of a Christian is a life of a witness."
Email Me