Minah, Moinina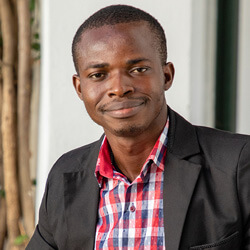 Serving At: South Caribbean District, Methodist Church in the Caribbean and the Americas
Home Country: Sierra Leone, Africa
WAYS TO REACH ME:
This missionary has completed service. The Advance number will remain active until December 31, 2021.
Moinina Minah, a Global Mission Fellow with the United Methodist General Board of Global Ministries, was commissioned in August 2018. He is engaged in a two-year term of service as a youth worker with the South Caribbean District of the Methodist Church in the Caribbean and the Americas. He is based in St. Lucia.
The Global Mission Fellows program takes young adults ages 20-30 out of their home environments and places them in new contexts for mission experience and service. The program has a strong emphasis on faith and justice. Global Mission Fellows become active parts of their new local communities. They connect the church in mission across cultural and geographical boundaries. They grow in personal and social holiness and become strong young leaders working to build just communities in a peaceful world.
Moinina is from Freetown, Sierra Leone, where he is a member of the Charles Davies Memorial United Methodist Church in the Sierra Leone Annual Conference. He holds a bachelor's degree in social work from Fourah Bay College of the University of Sierra Leone, Freetown. Moinina has worked in the fields of social work, business and office administration, and data collection and management.
"My faith is strongest in times of difficulties," Moinina says. "Each time I experience setbacks in life, I tend to focus on God; then I translate this belief into hard work and a determination to overcome the challenge."
His commitment to mission, he adds, "is a response to God's appeal to love our neighbors as ourselves. The best way to fulfill this commandment is to work alongside vulnerable communities and individuals to alter unjust practices that threaten their humanity."
Email Me