Dimalanta, Juwille Marie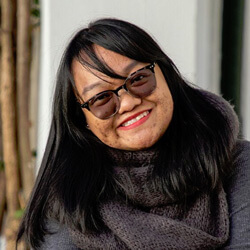 Serving At: Zimbabwe Council of Churches
Home Country: Philippines, Asia and Pacific
WAYS TO REACH ME:
This missionary has completed service. The Advance number will remain active until December 31, 2020
Juwille Marie Dimalanta is a Global Mission Fellow with the United Methodist General Board of Global Ministries, engaged in a two-year term of service with the Council of Churches in Zimbabwe. She was commissioned in August 2018.
The Global Mission Fellows program takes young adults ages 20-30 out of their home environments and places them in new contexts for mission experience and service. The program has a strong emphasis on faith and justice. Global Mission Fellows become active parts of their new local communities. They connect the church in mission across cultural and geographical boundaries. They grow in personal and social holiness and become strong young leaders working to build just communities in a peaceful world.
Juwille Marie is from the city of Kabacan in North Cotabato Province, Philippines. She is a member of the Kabacan Central United Methodist Church in the Mindanao Philippines Annual Conference. She holds a Bachelor of Science degree in electronic communications engineering from MATS College of Technology, Davao City. She has worked as an electronics technician and as a primary and high school tutor.
As a young professional, Juwille Marie wants to be a living testimony to the greatness of Jesus Christ in modern, worldly society. She believes her faith is strong enough to guide her through the rough spots in the world.
Nothing is more important to Juwille Marie than following God's will, and she believes it is God's will for her to travel from the Philippines to Zimbabwe on an adventure of faith. Jesus, she says, lifts her up, puts her on her feet and equips her to take on a world beyond her walls.
Email Me