Manokaran, Yabes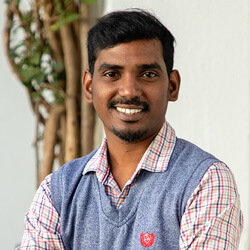 Serving At: Iglesia Metodista de Mexico
Home Country: India, Asia and Pacific
WAYS TO REACH ME:
This missionary has completed service. The Advance number will remain active until December 31, 2020.
Yabes Manokaran, a Global Mission Fellow with the United Methodist General Board of Global Ministries, was commissioned in August 2018. He is engaged in a two-year term of service with the migration ministries of the Methodist Church of Mexico, based in Tijuana.
The Global Mission Fellows program takes young adults ages 20-30 out of their home environments and places them in new contexts for mission experience and service. The program has a strong emphasis on faith and justice. Global Mission Fellows become active parts of their new local communities. They connect the church in mission across cultural and geographical boundaries. They grow in personal and social holiness and become strong young leaders working to build just communities in a peaceful world.
Yabes is originally from Tamilnadu State in India and is a member of the Immanuel Free Will Baptist Church of Kotagiri. He holds a Bachelor of Arts degree in religion, philosophy and sociology from the American College in Madurai and a Master of Arts degree in sociology from Madurai College. He has worked for the Student Christian Movement of India and in hospital public relations.
Raised on the campus of a theological seminary, Yabes was exposed from an early age to a range of theological and ecumenical understandings of Christian faith. His own family was Pentecostal. He was strongly influenced by the Student Christian Movement and its emphasis on social issues. "These experiences," he says, "have given me a wider understanding of what it means to be a disciple."
Yabes affirms his role in mission as that of engaging with God in what God is doing in the world, notably in establishing peace and justice. "My part," he notes, "is to become an active agent of reconciliation as the authentic pathway to justice and peace as I engage in the mission of God in the world."
Email Me