Falgout, Julia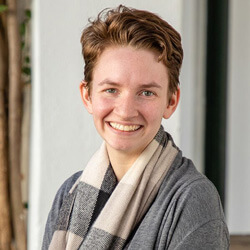 Serving At: UMC Poland
Home Country: United States of America, North America
WAYS TO REACH ME:
This missionary has completed service. The Advance number will remain active until December 31, 2020.
Julia Falgout is a Global Mission Fellow with the United Methodist General Board of Global Ministries, engaged in a two-year term of service as an English teacher and youth leaders with the United Methodist Church in Poland, based in Warsaw. She was commissioned in August 2018.
The Global Mission Fellows program takes young adults ages 20-30 out of their home environments and places them in new contexts for mission experience and service. The program has a strong emphasis on faith and justice. Global Mission Fellows become active parts of their new local communities. They connect the church in mission across cultural and geographical boundaries. They grow in personal and social holiness and become strong young leaders working to build just communities in a peaceful world.
Julia is from Decatur, Georgia, USA. She is a member of North Decatur United Methodist Church in the North Georgia Annual Conference. She holds a Bachelor of Science degree in psychology from Young Harris College in Georgia and has worked in child care and as a summer camp counselor.
"I started [attending] North Decatur church when I was in fourth grade and accepted God into my life," she recalls. "I attended youth group in middle and high schools. I went on six mission trips ranging from work with the Lakota Indian Nation in South Dakota to home repair in Ponce, Puerto Rico. I was an active member of Young Harris College's religious life program, participating in our chapel ministry team and Wesley programs."
Julia felt a call to mission while participating in religious life at Young Harris. She was attracted to the Global Mission Fellows program because of its emphasis on justice.

Email Me