Kazad, Yves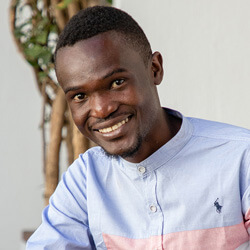 Serving At: Sierra Leone Council of Churches
Home Country: DrCongo, Africa
WAYS TO REACH ME:
Kazad Yves Kalum is a Global Mission Fellow with the United Methodist General Board of Global Ministries, engaged in a two-year term of service with the sustainable development program of the Sierra Leone Council of Churches. He was commissioned in August 2018.
The Global Mission Fellows program takes young adults ages 20-30 out of their home environments and places them in new contexts for mission experience and service. The program has a strong emphasis on faith and justice. Global Mission Fellows become active parts of their new local communities. They connect the church in mission across cultural and geographical boundaries. They grow in personal and social holiness and become strong young leaders working to build just communities in a peaceful world.
Kazad is from Sandoa Territory, Lualaba Province, Democratic Republic of the Congo. He is a member of the Sandoa United Methodist Church in the South West Katanga Annual Conference. He holds a bachelor's degree in business studies in management from Africa University, the United Methodist-related institution in Zimbabwe. He has worked in the telecommunications industry.
Raised in a Christian home, Kazad was particularly drawn to the church by the singing. "I used to get excited to sing for God," he recalls of his young years. But he began to wonder how he differed from people who didn't go to church. He felt he lacked the joy and enthusiasm he saw in some Christians. He became involved in Bible study groups and says he "discovered the secret of personal relationship with God" and "about the role of the Holy Spirit in enabling one [to] grow in faith."
His call to mission was influenced by "a passion for helping others who need help and those who need God in their lives," Kazad says.
Email Me