Irung, Charles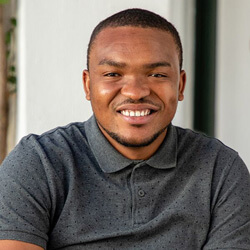 Serving At: Cambodia Mission
Home Country: DRCongo, Africa
WAYS TO REACH ME:
Charles Irung is a Global Mission Fellow with the United Methodist General Board of Global Ministries, engaged in a two-year term of service in agricultural food production with the Cambodia Mission, based in Phnom Penh. He was commissioned in August 2018.
The Global Mission Fellows program takes young adults ages 20-30 out of their home environments and places them in new contexts for mission experience and service. The program has a strong emphasis on faith and justice. Global Mission Fellows become active parts of their new local communities. They connect the church in mission across cultural and geographical boundaries. They grow in personal and social holiness and become strong young leaders working to build just communities in a peaceful world.
Charles is from Lubumbashi, Democratic Republic of the Congo, where he is a member of the Tiberie United Methodist Parish of the South Congo Annual Conference. He holds a bachelor's degree in natural resource management and environment from Africa University, the United Methodist-related institution in Zimbabwe. He has worked on farms and in a national park.
Growing up in a Christian home, Charles learned about God's love. As a teenager, he says, he saw that faith in God is not an inheritance but, rather, a "decision to follow Jesus and this only through the grace of God when I allow Jesus to shape all aspects of life." A decision for Christ, he says, provides a foundation of love, justice, truth, goodness andforgiveness.
Charles' understanding of and call to mission is linked to his experience of growing up in a country in conflict. He observed injustice and hopelessness from an early age since his home was near a refugee camp. He shared material goods with the homeless, but looking back, he realizes that the most important things he shared were "love, care and time." He looks forward to mission service that will lead to positive change for families, communities and the world. He prays for communities in which "love leads" and everyone has a reason to smile.
Email Me