Dedji, Syntiche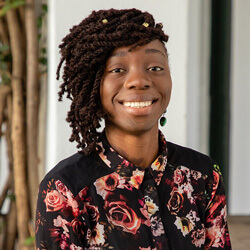 Serving At: Migrante International
Home Country: United Kingdom, Europe and Eurasia
WAYS TO REACH ME:
This missionary has completed service. The Advance number will remain active until December 31, 2020.
Syntiche Dedji, a Global Mission Fellow with the United Methodist General Board of Global Ministries, was commissioned in August 2018. She is engaged in a two-year term of service with the Migrante International.
The Global Mission Fellows program takes young adults ages 20-30 out of their home environments and places them in new contexts for mission experience and service. The program has a strong emphasis on faith and justice. Global Mission Fellows become active parts of their new local communities. They connect the church in mission across cultural and geographical boundaries. They grow in personal and social holiness and become strong young leaders working to build just communities in a peaceful world.
A British citizen, born in the Benin Republic, Syntiche has lived in London. She is a member of the Edmonton Methodist Church, a congregation of the Methodist Church in Britain. She holds a degree in French and international relations from the University of Westminster, London. She has worked as a partnership support officer for her denomination. Syntiche's father is a Methodist pastor.
Syntiche's Christian faith and experience have played a crucial role in shaping her. A part of the church since childhood and always active in church youth programs, she says she really began to grow in faith around age 15. "I had a deep thirst and hunger to know God personally," she remembers. "This thirst grew throughout my university years." At age 22, she felt a calling to qualify as a certified lay preacher and did so. "My relationship with God continues to grow," she says, "and I enjoy encountering Jesus in both the exciting and the mundane."
Syntiche defines "mission" as "members of the body of Christ allowing God to use them to reach others in love." She was drawn to mission by the experience of faith, by Methodism's heritage of social thought and action and by the power of prayer.
Email Me