Hachilenge, Janny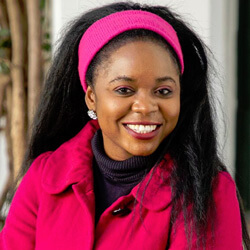 Serving At: Kapatiran-Kaunlaran Foundation, Inc.
Home Country: Zambia, Africa
WAYS TO REACH ME:
Janny Hachilenge is a Global Mission Fellow with the United Methodist General Board of Global Ministries, engaged in a two-year term of service as a Community Development Worker with Kapatiran-Kaunlaran Foundation, Inc. She was commissioned in August 2018.
The Global Mission Fellows program takes young adults ages 20-30 out of their home environments and places them in new contexts for mission experience and service. The program has a strong emphasis on faith and justice. Global Mission Fellows become active parts of their new local communities. They connect the church in mission across cultural and geographical boundaries. They grow in personal and social holiness and become strong young leaders working to build just communities in a peaceful world.
Janny is from Choma in the Southern Province of Zambia, where she is a member of the Brethren in Christ Church. She holds a degree in social work with a major in community development from the Choma Trades Training Institute. She has worked for the Mennonite Central Committee, a relief and development agency, in both Colombia and Indonesia and for World Vision in Zambia.
Prior to her baptism at age 16, Janny went to church because "it was the custom." Her baptism set her on a new course. "I began to follow God's word and understand the true meaning of connecting with the Holy Spirit through prayer," she says. "I began to trust in God for everything that happens in my life.
"I believe God has a plan for my life. He is the one who chooses to take me to different places in order to serve him. I believe that I am God's work in progress and he know what is best for me."
Email Me