Chieza, Kevin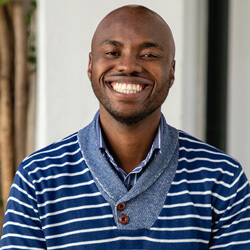 Serving At: Bwafwano Care Providers
Home Country: Zimbabwe, Africa
WAYS TO REACH ME:
This missionary has ended service. The Advance number will remain active until December 31, 2020.
Kevin Chieza is a Global Mission Fellow with the United Methodist General Board of Global Ministries, engaged in a two-year term of service as an agricultural officer at Bwafwano Care Providers, a facility for orphans and vulnerable children in Kitwe, Zambia. He was commissioned in August 2018.
The Global Mission Fellows program takes young adults ages 20-30 out of their home environments and places them in new contexts for mission experience and service. The program has a strong emphasis on faith and justice. Global Mission Fellows become active parts of their new local communities. They connect the church in mission across cultural and geographical boundaries. They grow in personal and social holiness and become strong young leaders working to build just communities in a peaceful world.
Kevin is from Mutare, Zimbabwe, where he is a member of Ehnes United Methodist Church in the Zimbabwe East Annual Conference. He holds a Bachelor of Science degree in geography and environmental sciences from the University of Monash South Africa in Johannesburg. He worked in the ecology field in South Africa for two years after completing his degree.
Growing up in a loving Christian home, Kevin learned about the gospel of Jesus Christ as a child. A sense of God's presence was especially important to him since his father died when he was only 3 weeks old. He says his faith journey has been guided by Proverbs 3:5-6, NRSV: "Trust in the Lord with all your heart, and do not rely on your own insight. In all your ways acknowledge him, and he will make straight your paths."
Kevin's call to mission is influenced by the apostle Paul's advice to the church at Ephesus in Acts 20:35, that it is more blessed to give than to receive. "As Christians and children of God," he says, "I believe it is our responsibility to show compassion and love for others in concrete ways … to show God's compassion to people, to help them feel cared for and [to] reinstate their self-respect and rights as humans, even in a world or a community full of injustice."
Email Me