Gaye, Bill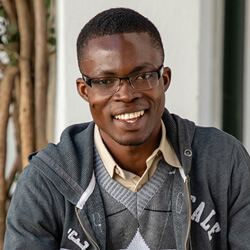 Serving At: St. John's United Methodist Church in L'viv
Home Country: Liberia, Africa
WAYS TO REACH ME:
Bill N. Gaye is a Global Mission Fellow with the United Methodist General Board of Global Ministries, engaged in a two-year term of service as a youth worker with the St. John's United Methodist Church in L'viv. He was commissioned in August 2018.
The Global Mission Fellows program takes young adults ages 20-30 out of their home environments and places them in new contexts for mission experience and service. The program has a strong emphasis on faith and justice. Global Mission Fellows become active parts of their new local communities. They connect the church in mission across cultural and geographical boundaries. They grow in personal and social holiness and become strong young leaders working to build just communities in a peaceful world.
Bill is from Monrovia, Liberia, where he is a member of St. John's United Methodist Church, Harrisburg Township, in the Liberia Annual Conference. He holds a Bachelor of Science degree in business education from the African Methodist Episcopal Zion University, Monrovia, and studied at Licosess Mobile Teacher Training Institute. Bill has worked as a teacher and administrator in the Montserrado County school system.
While involved in an Assemblies of God Church as a small child, Bill became a Methodist as a teenager. His faith grew strong through regular morning devotions, constantly hearing God's word, prayer and a sense of dependence on God. He served on several evangelism teams at church. "I am very thankful to God that I am always in his presence," Bill says.
His call to mission service is related to his sense of responsibility to spread the gospel and serve humanity. As he commits to the Global Mission Fellows experience, he knows he is not alone. "God promises that he will never leave us or forsake us," Bill says.
Email Me