Garcia Da Rosa, Campos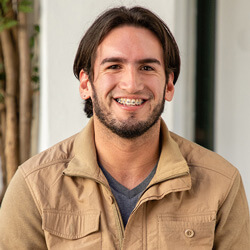 Serving At: Free Methodist Church of Spain
Home Country: Uruguay, Latin America and the Caribbean
WAYS TO REACH ME:
This missionary has completed service. The Advance number will remain active until December 31, 2020.
Ramiro Campos Garcia Da Rosa is a Global Mission Fellow with the United Methodist General Board of Global Ministries, engaged in a two-year term of service an outreach ministry associate with the Free Methodist Church of Spain. He was commissioned in August 2018.
The Global Mission Fellows program takes young adults ages 20-30 out of their home environments and places them in new contexts for mission experience and service. The program has a strong emphasis on faith and justice. Global Mission Fellows become active parts of their new local communities. They connect the church in mission across cultural and geographical boundaries. They grow in personal and social holiness and become strong young leaders working to build just communities in a peaceful world
Ramiro is from Salto, Uruguay. He is a member of the local Assemblies of God church, where his father serves as pastor. He holds a bachelor's degree from EMPI: Mission and Church Planting School and an advanced degree from the Cross-Cultural Missionary Training Center, both in Cordoba, Argentina. A degree in ministry is from the International Faculty of Theological Studies in Buenos Aires.
Ramiro walks every day with Jesus, having decided as a child to follow him. In his daily life, he says, "it is my constant intention to share Jesus with others – to show his love with my actions and decisions."
Mission has always been a part of his life. His parents were missionaries for 16 years with the Uruguayan Assemblies of God Church. He was with them in service in Paraguay, Haiti and the Dominican Republic. Ramiro was an Assemblies of God missionary in the Middle East for 17 months in 2015 and 2016.
Email Me