Buscano, Michael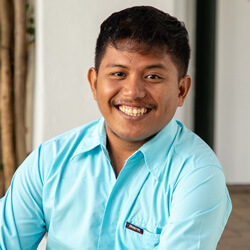 Serving At: Adziwa Community Based Orphans Care
Home Country: Philippines, Asia and Pacific
WAYS TO REACH ME:
Michael Buscano is a Global Mission Fellow with the United Methodist General Board of Global Ministries, engaged in a two-year term of service as a program and development officer at Adziwa Community-Based Orphans Care in Adziwa, Malawi. He was commissioned in August 2018.
The Global Mission Fellows program takes young adults ages 20-30 out of their home environments and places them in new contexts for mission experience and service. The program has a strong emphasis on faith and justice. Global Mission Fellows become active parts of their new local communities. They connect the church in mission across cultural and geographical boundaries. They grow in personal and social holiness and become strong young leaders working to build just communities in a peaceful world.
Michael is from Kabacan in Cotabato Province on the Philippines island of Mindanao. He is a member of Kabacan Central United Methodist Church in the Mindanao Annual Conference. He holds a bachelor's degree in early childhood education from the Southern Philippines Methodist Colleges, Kidapawan City. He has worked as a preschool teacher and been involved in ministries with children and youth on the church's district level.
"God gives strength in every kind of my weaknesses," Michael says. "God always leads me in the right path, and my faith has grown like a mustard seed.
"God calls me to serve other people, and I offer everything I have, my talents and skills, to my mission."
Email Me