Biasbas, Mae Anne Lee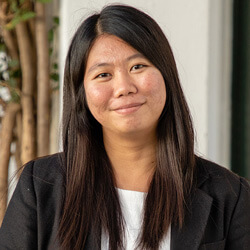 Serving At: Zambia Council of Churches
Home Country: Philippines, Asia and Pacific
WAYS TO REACH ME:
Mae Anne Lee Biasbas is a Global Mission Fellow with the United Methodist General Board of Global Ministries, engaged in a two-year term of service as a program assistant officer with the Council of Churches in Zambia. She was commissioned in August 2018.
The Global Mission Fellows program takes young adults ages 20-30 out of their home environments and places them in new contexts for mission experience and service. The program has a strong emphasis on faith and justice. Global Mission Fellows become active parts of their new local communities. They connect the church in mission across cultural and geographical boundaries. They grow in personal and social holiness and become strong young leaders working to build just communities in a peaceful world.
Mae is from San Jose City in the Nueva Ecija Province of the Philippines, where she is a member of the Palestina United Methodist Church in the Central Luzon Philippine Annual Conference. She holds at Bachelor of Arts degree in mass communications from Wesleyan University-Philippines. She has worked as youth coordinator of the North East Central Luzon District of the church, ministries coordinator of the Baguio Episcopal area and as a translator. Both of her parents are United Methodist clergy, her father a district superintendent and her mother as pastor at Palestina.
"As a pastor's kid, I learned early in life about Jesus," she says. "I tried living 'righteously' in the eyes of everyone because that was what was expected. Actually, I was complacent in building a relationship with Jesus and truly knowing him. My real faith journey with Jesus started when I was a young adult in a rough place. That is when I truly came to know him personally and, through prayer and personal devotion, to mature spiritually.
"As I grew in relation to Jesus with the help of my mentors, I began to realize that I wanted to reflect Christ to my fellow youth—to share God's goodness and faithfulness to everyone I meet."
By becoming a Global Mission Fellow, Mae is prayerfully surrendering all her skills and talents to the use of God's mission.
Email Me