Batkhuu, Enkhsaikhan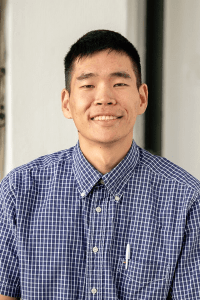 Serving At: INSPIRE
Home Country: Mongolia, Asia and Pacific
WAYS TO REACH ME:
Enkhsaikhan Batkhuu is a Global Mission Fellow with the United Methodist General Board of Global Ministries, engaged in a two-year term of service as a youth worker with INSPIRE. He was commissioned in August 2018
The Global Mission Fellows program takes young adults ages 20-30 out of their home environments and places them in new contexts for mission experience and service. The program has a strong emphasis on faith and justice. Global Mission Fellows become active parts of their new local communities. They connect the church in mission across cultural and geographical boundaries. They grow in personal and social holiness and become strong young leaders working to build just communities in a peaceful world.
Enkhsaikhan is from Ulaanbaatar, Mongolia, where he is a member of the Root of Blessing Church. He holds a bachelor's degree in business administration from the University of Finance and Economics in Ulaanbaatar and has worked as an accountant. His mother works for Global Ministries' Mongolia Initiative, and his father formerly worked there.
"I was born into a Christian family," Enkhsaikhan says. "In 2013, I decided to become a disciple of Jesus and was baptized in 2016. The next year I started to lead a cell group at church. I believe my calling is to help others to become disciples."
Email Me