Agron, Eric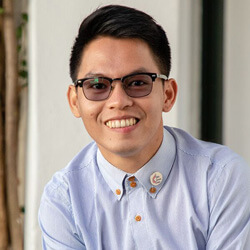 Serving At: Iglesia Metodista de Mexico
Home Country: Philippines, Asia and Pacific
WAYS TO REACH ME:
This missionary has completed service. The Advance number will remain active until December 31, 2020
Eric Agron is a Global Mission Fellow with the United Methodist General Board of Global Ministries, engaged in a two-year term of service as a Mission Supporter and Migration Ministries Advocate with the Iglesia Metodista de Mexico, based in Mexico. He was commissioned in August 2018.
The Global Mission Fellows program takes young adults ages 20-30 out of their home environments and places them in new contexts for mission experience and service. The program has a strong emphasis on faith and justice. Global Mission Fellows become active parts of their new local communities. They connect the church in mission across cultural and geographical boundaries. They grow in personal and social holiness and become strong young leaders working to build just communities in a peaceful world.
Eric is originally from the Philippines and is a citizen of that country but was living in Abu Dhabi, United Arab Emirates, when he entered missionary service. His home church in the Philippines is Cappia United Methodist in the Mindanao Central District of the Mindanao Philippines Annual Conference. In Abu Dhabi he took part in the United Methodist Church of Abu Dhabi, a congregation of migrants related to the Northwest Metro Manila District of the Philippines Annual Conference.
A graduate of Notre Dame of Midsayap College in Cotabato Province (Philippines) with a Bachelor of Science degree in business administration, Eric has worked in the financial industry as an accounting assistant and teller.
Eric was raised in a United Methodist home and congregation and as the youngest child had an early sense of competition with older siblings when it came to church and school activities. He encountered Jesus in a personal way at age 11 and through Bible study and church institutes, learned to accept himself for who he is as a person beloved by God: "I didn't have to perform to be loved." He would become a Sunday school teacher and leader in his church and in Abu Dhabi, and says, "There's still so much to learn and experience journeying with Christ."
The Global Mission Fellows program appealed to him from the time in first heard about it. He especially likes the way it links mission and the cause of justice. He believes being a mission fellow will give him "a better sense of purpose and meaning" in his life.
Email Me