Walker, Sarah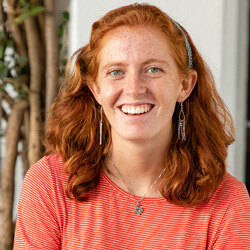 Serving At: Free Methodist Church of Spain
Home Country: United States of America, North America
WAYS TO REACH ME:
This missionary has completed service. The Advance number will remain active until December 31, 2020.
Sarah Walker is a Global Mission Fellow with the United Methodist General Board of Global Ministries, engaged in a two-year term of service as a teacher with the Free Methodist Church of Spain. She was commissioned in August 2018.
The Global Mission Fellows program takes young adults ages 20-30 out of their home environments and places them in new contexts for mission experience and service. The program has a strong emphasis on faith and justice. Global Mission Fellows become active parts of their new local communities. They connect the church in mission across cultural and geographical boundaries. They grow in personal and social holiness and become strong young leaders working to build just communities in a peaceful world.
Sarah is from Denison, Texas, USA. She is a member of Grace United Methodist Church in Sherman in the North Texas Annual Conference. She holds a Bachelor of Arts degree from Hendrix College, a United Methodist-related institution in Conway, Arkansas. Her double major was in international relations and Spanish. During her senior year, Sarah worked as a Spanish tutor at Hendrix. In the summer of 2017, she taught English at Gashora Girls Academy of Science and Technology in Rwanda. In the previous year, she spent five months teaching English in a Montessori school in Valparaiso, Chile.
Sarah grew up in an active United Methodist home and a local church that were important foundations for her faith development. She reflects, "My faith grew once I entered college, where I was able to interact with peoples and ideas different from those to which I was accustomed. Living in Chile, I was able to experience the global church and worship alongside those from many walks of life. This experience showed me the importance of Christian community, of fellowships with other believers regardless of country, culture or language."
Mission trips in the U.S. and internationally introduced Sarah to the possibility of mission service. "Over the years," she says," I have felt God putting the idea of long-terminternational mission on my heart."
Email Me