Siironen, Jinnia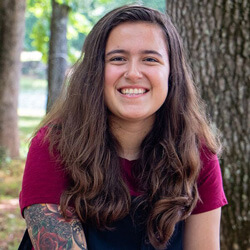 Serving At: NOAH Project
Home Country: United States of America, North America
WAYS TO REACH ME:
This missionary has completed service. The Advance number will remain active until December 31, 2020
Jinnia Siironen is a Global Mission Fellow with the United Methodist General Board of Global Ministries, engaged in a two-year term of service with the Detriot Annual Conference. She was commissioned in August 2018.
The Global Mission Fellows program takes young adults ages 20-30 out of their home environments and places them in new contexts for mission experience and service. The program has a strong emphasis on faith and justice. Global Mission Fellows become active parts of their new local communities. They connect the church in mission across cultural and geographical boundaries. They grow in personal and social holiness and become strong young leaders working to build just communities in a peaceful world.
In the United States, GMF service continues the historical US-2 mission program for young adults; it operates through affiliates, such as annual conferences, districts or other institutional expressions of the church.
Jinnia is from Franklinville, North Carolina, where she is a member of Grays Chapel United Methodist Church in the Western North Carolina Annual Conference. She holds a degree in culinary arts from Guilford Technical Community College in Jamestown, North Carolina and has worked as a cook and in summer camping programs.
Her faith journey began as a middle school student invited by a friend to attend a church youth meeting. She liked it, made new friends, went regularly and, in her words, "eventually, accepted the Lord into my life." Next came participation in summer mission camps. She fell in love with the activities and worked at the camp multiple summers. "Through camp and meeting all the various people," she says, "the Lord taught me so much about myself."
A call to mission service came to Jinnia in a "small and quiet voice," and she is excited to see how God will use her in the future.
Email Me